Kallanai (also known as the Grand Anicut) is an ancient dam. It is built (in running water) across the Kaveri river flowing from Tiruchirapalli District to Thanjavur district.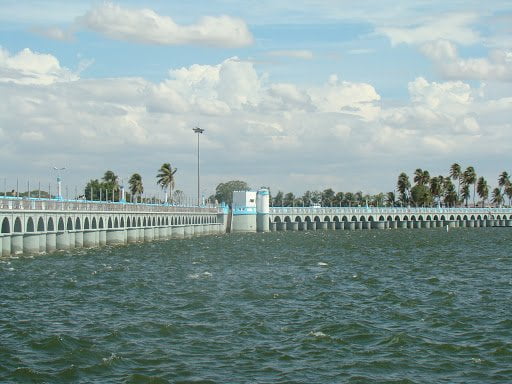 PLACEMENT
The dam located in Thanjavur District. Located at a distance of 45 km from Thanjavur, 15 km from Tiruchirappalli, the dam was originally constructed during the reign of Chola king Karikalan in c. 100 BC – c. 100 AD
ANTIQUITY
In 1804, Captain Caldwell, a military engineer, was appointed by the British to make a study on the Kaveri river and promote irrigation for the delta region. He found that a large amount of water passed onto the Kollidam leaving behind a small volume for irrigation purposes.Caldwell initially proposed a solution by raising the dam and hence raised the dam stones to a height of 69 centimetres (27 in), thus increasing the capacity of the dam.
Following this, Major Sim proposed the idea of undersluices across the river with outlets leading to the Kollidam River (Coleroon) thus preventing formation of silt. The Lower Anaicut built by Sir Arthur Cotton in the 19th century CE across Coleroon, the major tributary of Cauvery, is said to be a replicated structure of Kallanai.
SIGNIFICANT
However, the flood waters can be allowed, by opening the barrage/anaicut gates, to pass through the other three delta branches also to join the sea. It is constructed from unhewn stone spanning the Kaveri and is 329 m (1,079 ft) long, 20 m (66 ft) wide and 5.4 m (18 ft) high.
The dam is still in excellent condition, and supplied a model to later engineers, including Sir Arthur Cotton's 19th-century dam across the Kollidam, the major tributary of the Kaveri. The area irrigated by the ancient irrigation network is about 69,000 acres (28,000 ha).
The delta farmers of Tamil Nadu have demanded the Tamil Nadu government to honor Karikala Cholan, who built this dam.