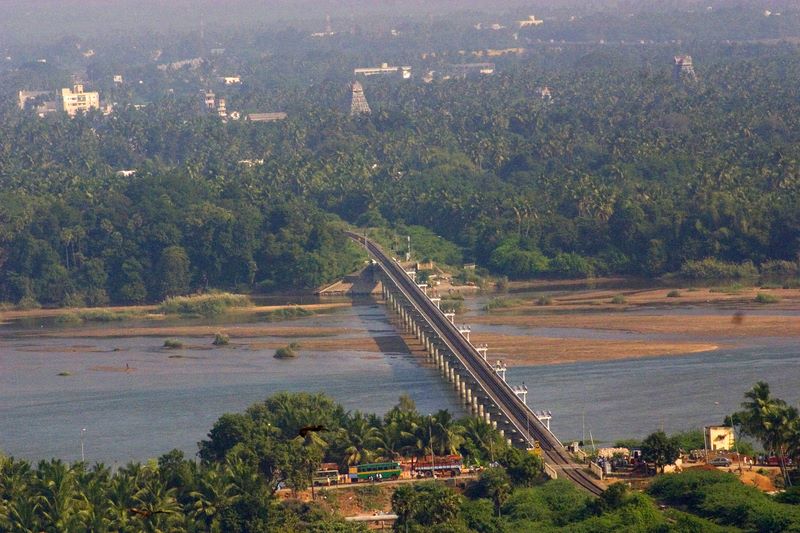 The Kaveri and Kollidam rivers flow around Srirangam Island, which is known for sacred Hindu sites Sri Ranganathaswamy Temple, with intricately carved gopurams (towering gateways), and Jambukeswarar-Akilandeswari Temple, dedicated to the god Shiva.
The catchment area of the Kaveri basin is estimated to be 81,155 square kilometres (31,334 sq mi) with many tributaries including Harangi, Hemavati, Kabini, Bhavani, Lakshmana Tirtha, Noyyal and Arkavati. The river basin covers three states and a Union Territory as follows: Tamil Nadu, 43,868 square kilometres (16,938 sq mi); Kerala, 2,866 square kilometres (1,107 sq mi), and Puducherry, 148 square kilometres (57 sq mi). Rising in Talakaveri in Kodagu, Karnataka, it flows southeast some 800 kilometres (500 mi) to enter the Bay of Bengal. In Chamarajanagar district it forms the island of Shivanasamudra, on either side of which are the scenic Shivanasamudra Falls that descend about 100 metres (330 ft). The river is the source for an extensive irrigation system and for hydroelectric power. The river has supported irrigated agriculture for centuries and served as the lifeblood of the ancient kingdoms and modern cities of South India.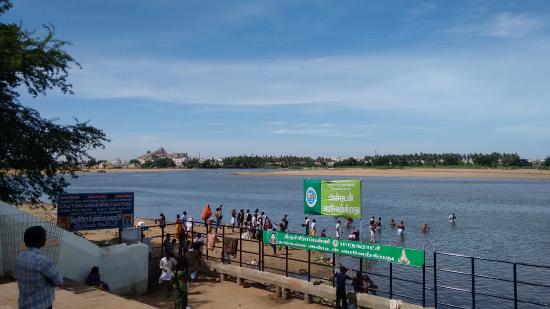 RIVER COURSE
After the river leaves the Kodagu hills and flows onto the Deccan plateau, it forms two islands in Mandya district's Srirangapatna and Shivanasamudra. This aqueduct also served as a motorable bridge until 1964.The kabini river tributary of Kaveri joins Kaveri at Tirumakudal Narasipura where triveni sangama takes place along with mythological river Spatika. The Moyar River is an east flowing river that originates in the Mudumalai, Bandipur, and Wayanad National Parks draining the Nilgiri Hills in Tamil Nadu and Karnataka and is one of the tributaries to the Kaveri River.
The river enters Tamil Nadu through Dharmapuri district leading to the flat plains where it meanders. It then flows further through the length of Erode district where the river Bhavani, running through the breadth of the district, merges with it. The confluence of the rivers Kaveri, Bhavani and Akash Ganga (mythological) is at the exact place of Bhavani, Tamil Nadu Kooduthurai or Tiriveni Sangamam, Northern part of Erode City.
While passing through Erode, two more tributaries merge. Here the river becomes wide, with a sandy bed, and flows in an eastern direction to enter Tiruchirappalli district It splits into two at upper Anicut about 14 kilometres (9 mi) west of Tiruchirappalli. The northern branch of the river is called the Kollidam while the southern branch retains the name Kaveri and then goes directly eastwards into Thanjavur District.
TRIBUTARIES
Harangi River
Hemavati River
Lakshmana Tirtha
Amaravathi River
Bhavani River
Kabini River
Noyyal River
Arkavathi River