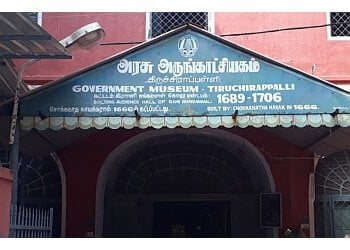 The Government Museum, Tiruchirappalli is a heritage centre at Tiruchirappalli, Tamil Nadu.It is situated at Rani Mangammal Mahal in Bharathidasansan town, near the super bazaar .The nearest landmark is Rockfort temple.
Rani Mangamma Mahal was built by Chokkanatha Nayak, the then ruler of Madurai. It was also known as the Durbar Hall of the Madurai Nayaks when Tiruchirapally was their capital, from 1616 to 1634 and later from 1665 to 1731.
The museum contains array of exhibits relating to geology, zoology, paintings, anthropology, epigraphy and history.
HISTORY
This museum was established in 1983 by the State Department of Museums at Cantonment after Salem  and Madurai, as a principle of government of Tamil Nadu to have museum in every district. It was later moved to Rani Mangammal Darbar Hall (a Monument built during Nayak rule, also known as Kolu Mandapam) during 1997, which is within Town Hall Complex. The museum is maintained by the Public Works Department.
TIMINGS
It is open throughout the year (Morning 10.00 AM to Evening 5.00 PM except every Friday).