HISTORY
The founder of THE CHENNAI SILKS is Shri.A.Kulandaivel Mudaliar. Though he started with modest beginnings, he envisioned a grand future, one that would transcend time for generations to come. It was his vision that revolutionised a humble weaving unit into what is today, a conglomerate with diverse business interests. His extraordinary spirit continues to inspire us to scale new heights of success in all our endeavours….

At TCS, it is our unique value system that has made us what we are today. An ethical approach to business ensures integrity in all our dealings, making us synonymous with reliability and trustworthiness. Our core focus has always been to make sure that each person connected with us- our vendor, employee of customer – finds our association fulfilling as well as fruitfull. As we change with the times, we will ensure that our values stay constant, because more than anything else, we will remain a group that values its values… to come….
The largest textile kingdom in Tamilnadu, The Chennai Silks (TCS) has proven to be a shopper's delight for generations of families. It has a widespread reach with sprawling showrooms in Chennai, Coimbatore, Tirupur, Erode, Trichy, Karur,  Ernakulam, Tirunelveli, Vellore, Salem, Villupuram, Hosur, Madurai and Chittoor. Our Airport showrooms at Coimbatore Airport, Madurai Airport, Hyderabad Airport, Mumbai Airport, Chennai Airport and Trichy Airport. The Chennai Silks continues its endeavors to reach out to customers, beyond barries and beyond boundaries….
thechennaisilks.com is e-commerce arm of the The Chennai Silks. They delivers across more than 200 countries. thechennaisilks.com is able to offer a wide range of genuine products at very reasonable prices, confidence of buying from a trusted source and the convenience of returing in our Showrooms.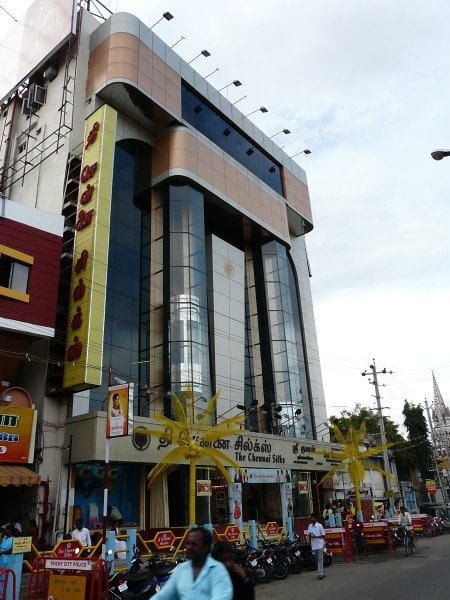 CONTACT
The Chennai Silks – Trichy
10 -12, W.B. Road
Trichy,Tamilnadu 620002

+91 431 270 8888 & 900 308 9009