The Founder of Seethalakshmi Ramaswami College Padmabhushan Shri. N. Ramaswami Ayyar started Savithri Vidyasala Hindu Girls' Higher Secondary School in the year 1938, with a noble purpose of providing education to girls in the background of Indian tradition and culture.
 Seethalakshmi Ramaswami College was one of the first colleges in Tiruchirappalli to opt for autonomous status in the year 1987. This has allowed us to experiment and innovate in curricular aspects. 
In the most recent assessment by NAAC, the college has been re-accredited with an "A+" grade (4th Cycle) in recognition of its all round academic excellence, research programmes and social outreach activities.
To empower women through quality education on the strong foundation of ethical, moral and cultural values
LOGO OF SRC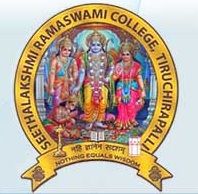 CONTACT
0431 2704855 info@srcollege.edu.in
No.5, Sankaran Pillai Road,
Tiruchirappalli, Tamil Nadu 620002